Hi,today we are presenting a Freebie for our Deal looters From Rewardme.in
Rewardme.in had come with an awesome offer,providing free Samples of Pantene Shampoo, Olay, Ariel, Pamper and other products "Absolutely Free".
Note:-You can't order Free Samples if you have Ordered before.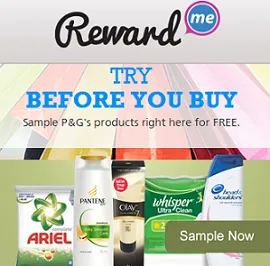 How to Apply & Get RewardMe Free Samples:
 <<  Click Here  >>  to open RewardMe Free Samples page.
  Here you'll see all RewardMe Free Samples currently available for free of cost.
 Free Samples may change time to time.
 Click "Add to Basket", one by one for all available products.
 Click "Go to basket" and click "Order".
 Now click "Register Now" to create your RewardMe account.
 This offer is for Female user 25 + years only, so register as female member of your family!
 Enter all required details like name, address, mobile number etc to compete the registration.
 All the requested RewardMe Free Samples will be send at your address within 4 weeks (or more).